Friday, June 08, 2012
Sisters,
It really was wonderful spending time with you last week.

Susan, Wish we had more time. It got away from us quickly.

Hannah, That is the most time I think we have been together since Lakewood. I really enjoyed and appreciated it.

Carrie, Thank-you for giving up your crazy schedule to be present. I was surprised in a good way.

Molly, You surprised all of us! See you soon.

My goal this summer is to be available to Mother for whatever she needs. I will probably go back and forth as much as I can.

Next week is my 50 mile trail run, which will be dedicated in my heart to Daddy. No matter what, I will finish that race.





Wednesday, May 23, 2012
Shaw Girl Happenings: Update on the Pops
Wednesday, May 16, 2012
Update on the Pops
So, Dad is leaving the hospital today and going into short term care at the Waterford, a nice retirement facility that takes one from individual housing to nursing home on the same property. We have one here in Helena.

Mother feels overwhelmed as you can imagine if your husband of 60+ years was ill. Keep her in your prayers.

Diagnosis is multiple melonoma. Carrie and I spoke for a while today. She does not have details yet, but he is only schedule for SHORT TERM rehab, so that is hopeful. It is wait and see for now.

I stressed to both Carrie and Molly to KEEP US UP TO DATE. No one has to jump on a plane yet. Stay tuned.

Thursday, March 01, 2012
Another sewing contest
Finished this item for a sewing contest. What a sewing geek I am becoming. A combination of empty nesting and no snow has me in my sewing room (aka Katie's room) daily. This was for a quilt shop, where you bought a bundle of 3 fabrics and were challenged to make an apron using one of the fabrics. I used all three, plus another. Wish me luck.
Wednesday, February 29, 2012
Red Dress Contest
I sewed this red dress on my new machine. I'm entering it in an online contest. I even get to display this widget on our blog for entering. Wish me luck!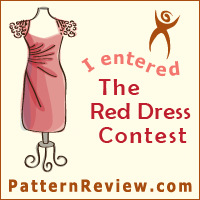 added to the zoo - BOB THE CAT.
Tuesday, January 03, 2012
New Years
Mike and I went to a sober dance. Formal attire was requested, so I dusted off my wedding dress. I forgot how pretty that dress is! Now I have to think of other places to wear it. We were home to watch the ball drop at midnight.
The next day, a small, but hardy group of us ran 12 miles for 2012. We have no snow, either.
Saturday, December 31, 2011
HAPPY NEW YEAR!!!
What's everyone doing to celebrate the new year?
We plan to do a bit of soggy skiing in the afternoon at the Peak, meet up in the fancy Regency Pub for appetizers and seasonal cheer, be home by 8, crack champagne at 9 or 10 (because it's midnight somewhere in the world) and then go to bed! Sounds like the traditional Shaw New Year's from when we grew up!
Unfortunately, the whole 2.5" of snow that we have received this year (yup, that's the total for this November and December combined) has just about melted.
Labels: Holidays, party, skiing